Super Foods for Under $1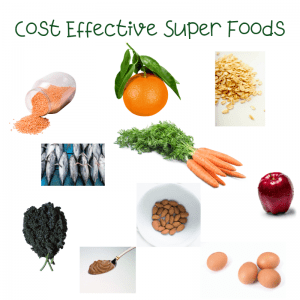 Steer clear of the $20 per pound wild shrimp and the imported organic avocados that sell for $3 each. Instead, look to inexpensive, easy to find, delicious, and super healthy foods you'll love. Here are some ideas for tasty foods that are available anywhere you shop:
Lentils – Cost Per Serving (1 cup): 15¢
Like beans, lentils are high in fiber and protein (8 grams and 9 grams per half cup, respectively), which makes them great for your heart. They have the edge over beans, though, when it comes to preparation. Lentils cook up in only 15 to 30 minutes and don't need to be presoaked.
Oats – Cost Per Serving (1/3 cup, uncooked): 10¢
Oats are a great way to get soluble fiber in your diet (they deliver 3 grams per serving). Research suggests that increasing your intake of soluble fiber by 5 to 10 grams each day could result in a 5 percent drop in "bad" LDL cholesterol. Quick-cooking oats are just as healthy as steel-cut—just steer clear of oatmeal packets that are loaded with added sugars
Kale – Cost Per Serving (1 cup): 60¢
Kale is an undisputed superfood. A single serving (1 cup cooked) has 10 times the daily value of bone-healthy vitamin K. It also has 3 times the daily value of vitamin A and is high in lutein and zeaxanthin, which all help your vision. Plus, it's pretty darn tasty.
Almonds – Cost Per Serving (1 oz.): 63¢
A 1-ounce serving (23 nuts, 162 calories) has 37 percent of your daily value for vitamin E—a nutrient many Americans fall short on. Almonds also deliver some calcium, fiber and folate. Not only that, a serving of almonds has as many flavonoids as a cup of green tea, according to a study in the Journal of Agricultural and Food Chemistry.
Oranges – Cost Per Serving (1 orange): 34¢
You can get your entire days' worth of vitamin C in a single orange. Plus, oranges deliver fiber (3 grams in one orange) and not only that, the orange color means it delivers vision-boosting beta carotene.
Apples – Cost Per Serving (1 apple): 28¢
Apples don't have a megadose of any one vitamin or mineral to boast about, however, they are a powerful combination of healthy and tasty. Several research studies suggest that apples are good for your heart, too.
Tuna – Cost Per Serving (3 oz.): 48-77¢
Sure, salmon gets a glowing (and well-deserved) rep for being a mega source of omega-3s, but did you know that lowly canned tuna also delivers omega-3s? Look for chunk light tuna, which comes from smaller tuna fish and is lower in mercury than white albacore tuna.
Peanut Butter – Cost Per Serving (2 tbsp.): 21¢
Don't knock peanut butter. Not only is it delicious and versatile, it delivers many of the same benefits as more expensive tree nuts, such as improving cholesterol and lowering risk of heart disease. Peanut butter delivers heart-healthy mono- and polyunsaturated fats, vitamin E and zinc.
Eggs – Cost Per Serving (1 egg): 17¢
For such a small and inexpensive food, eggs pack in a lot of nutrition. The whites are brimming with protein (4 grams per egg), while the yolks deliver some vitamin D plus a lutein and xanthinin, which lowers the risk of age-related macular degeneration—a disease that affects one in eight Americans with vision loss and sometimes blindness.
Carrots – Cost Per Serving (1 cup): 32¢
Sweet potatoes get a lot of love for being a superfood, but so should the carrot. After all, they're both orange, which means they both deliver beta-carotene (a type of vitamin A). A cup of carrots delivers 4 times the DV of vitamin A, which helps build bone and contributes to immune function.