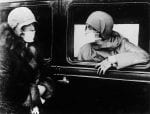 Did you know that during the 1918 flu pandemic that wearing personal face masks was not only recommended, but in many places throughout the United States, was required?
Today, the COVID-19 Coronavirus is rapidly spreading throughout the world, as the flu did in those two fateful years of 1918 through 1920. One of the biggest differences is that flu symptoms manifest in a short period of time; approximately 24 hours. COVID-19 will linger for hours or even days, and people can be without any virus symptoms, but spread the disease to everyone they meet.
While we can't stop this virus in its tracks, there are things we can do to slow the spread and keep this pandemic from overwhelming our hospitals and healthcare workers; stay home, stay clean, and if you have to go out in public, wear a personal face mask.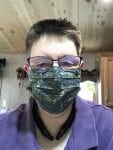 Not only will wearing a mask help to protect yourself and others, making them is a fun project.
Fun project, you say? Absolutely! These easy to make masks can be created from any clean fabric you have on hand. We recommend cotton. Many communities are even making them, along with ingenious face shields and even ventilators, for their healthcare providers and essential workers. To participate in a community effort be sure to check with your county or city officials before sending them anything. We want to help, not hinder, their efforts to keep us safe and healthy.
There are many health centers and hospitals that are sharing instructions and videos on how to make a mask for personal use. We used the Deaconess Health Center's instructions. Click here for a pdf version you can print and use for your mask-making project. Their website also includes an instructional video.
There are many YouTube videos online for various methods of making masks. There are patterns for turning bandanas, hand towels, and t-shirts into face masks without any sewing.
A local health center in our community recommended the Deaconess pattern that we've been usin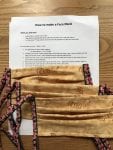 g at home. We've been making them for our own use for a few weeks now. Along with keeping a box of gloves and alcohol wipes by the door, washing before and after touching anything new, and physically distancing from everyone, these masks make a bad situation just a bit easier to deal with.
With a little imagination your mask just might turn into a fashion statement!
| | |
| --- | --- |
| | Gloria's career as an independent nonprofit consultant, trainer, and writer spans over 30 years giving her lots to talk about. She has a deep passion for sustainability, both environmentally and organizationally. Enjoy her perspectives on community, development, and tales from her virtual world travels. |