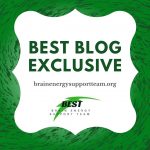 One person caring about another represents life's greatest value.
— Jim Rohn
The Brain Energy Support Team (BEST) is pleased and honored to announce that we will be hosting a monthly caregiver support group at our facility beginning in September. All are welcome. The group will be facilitated by BEST Team and Board member and caregiver, Maggie De-Puye Phillips. Here are a few words from Maggie herself that describe this community event:

The BEST "Caregiver Matters" Support Group will provide opportunities for caregivers to meet with other caregivers to learn new stress management strategies, offer emotional support to one another, and discuss their specific situations and concerns in a very informal, casual environment. This group will educate and inform, as well as provide a safe, supportive community as they walk the caregiving journey with others who understand. Participants will be encouraged to share feelings, concerns, and information in a safe, confidential and nonjudgmental setting.
Caregiver topics will vary month to month with occasional guest speakers and/or presentations from various organizations that specialize in caregiver resources. Caregivers interested in attending the support group can simply show up at the BEST Space as registration is not necessary at this time; however, if there are any questions or more information is needed, contact me via email at maggie@brainenergysupportteam.org or contact Our BEST Space at (877)719-2378. Participants only need to bring themselves and a willingness to learn from fellow caregivers. Light refreshments will be provided; however, feel free to bring a dish to share.
At this time, it will be the 3rd Saturday of the month.  The first meeting is slated for Saturday, September 20, 2014 from 2 p.m. to 4 p.m. at Our BEST Space.  Our BEST Space is located at 2607 Bridgeport Way W. Suite 2G in University Place.  Click HERE for driving directions. For more online information about this group and other opportunities at the Space, please click HERE.