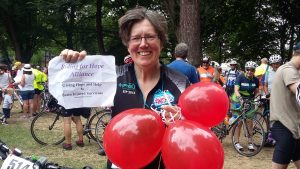 Cyclist, brain injury survivor and Washington State resident, Kathi Sturgeon is helping to support brain injury survivors one ride at a time.
Sturgeon has founded an organization called Riding for Hope Alliance to do just that. The mission and goal of the organization is straightforward: Riding for Hope Alliance raises resources and awareness for brain injury survivors through bicycling. Sturgeon, an avid cyclist, wanted to channel her passion for the sport to help support fellow brain injury survivors. She came up with the idea last year to complete three different local rides to benefit three different nonprofit organizations that support brain injury survivors. Contributors donated directly to the designated organizations in honor of the ride.
Sturgeon accomplished her goal in 2016 and is ready to take Riding for Hope Alliance to the next level. Currently, she has social media presence through Facebook and Twitter and has a website coming soon. She also hopes to expand the riding team to help spread awareness and provide support to a cause that she holds dear.
"It's my desire for others to give all through 2017, once they become aware of the organizations that are supported through Ride for Hope Alliance. My long-term goal is to expand this idea and add more riders, even riders in multiple states, to help support the cause and bring awareness."
Sturgeon is also grateful about returning to cycling after her own brain injury and continuing on her own personal journey forward.
She began riding in California in the early-2000's and fell in love with the sport right away.
"Prior to my injury, it was just this joy when I rode, physically, mentally and emotionally. It had so many benefits," says Sturgeon. "I was on a women's cycling team and we built friendships while raising money for causes."
"I just fell in love with cycling," Sturgeon continues. "There were the challenges, too, like longer and longer rides. It was such a great accomplishment!"
However, it was on the bike, while training for a ride, that Sturgeon was hit by a drunk driver in 2008. She sustained a traumatic brain injury, along with other serious injuries. Despite her circumstances, she distinctly remembers feeling the need to get back on the bike when she was in rehabilitation after her accident.
"After my injuries, I remember being in rehab and I really wanted to get back on my bike. When I first started riding again, it was on a tandem bike with my therapist."
Sturgeon continued to heal and build strength through tandem rides and eventually she being able to ride on her own again.
The big test came in 2012 when Sturgeon relocated from California to Washington State. She was invited to appear on a local television news broadcast to share her story and talk about the work she was doing on behalf of Mothers Against Drunk Driving (MADD). It was in that interview that she declared she would ride the Seattle to Portland (STP) bike race in 2013.
"It was after that interview that I realized that I just said on television that I would ride the STP!" laughs Sturgeon.
Sturgeon remained true to her word, and along with a couple of physical therapists serving as support systems and fellow riders, completed the STP in 2013.
After recalling the memories of the race, she smiles and stated that it was nothing short of incredible.
For Sturgeon, this is only the beginning of her mission.
"I want to speak for brain injury survivors," says Sturgeon. "By focusing on good nonprofits that support survivors, I want to help raise money and awareness for survivors."
Sturgeon's next endeavor will be to ride in the Tour De Lopez on Lopez Island in Washington State on Saturday, April 29, 2017. Riding for Hope Alliance is looking to raise funds and bring awareness to the Brain Energy Support Team (BEST). To support Riding for Hope Alliance and BEST, please click HERE. Thank you for your support!
To learn more about Riding for Hope for Alliance, please visit the organization on Facebook.