How was that for an attention-grabbing headline? Unfortunately, too many of us with brain injuries find ourselves repeating this phrase over and over to neurologists, neuropsychologists, and numerous other healthcare providers. While mental health issues often arise after a brain injury, it's important to know that bad behaviors and emotional imbalances are as likely to be a result of damage to particular areas of the brain as they are chemical or hormonal imbalances.
May was Mental Health month and BEST was able to share information about brain injury and mental health to a diverse and engaged audience at Virtual Abilities 6th Annual Mental Health Symposium. Thanks to our avatar-in-chief Namaara MacMoragh (aka me) BEST also had an information display at Virtual Ability Island in Second Life.
Second Life is a multi-user, virtual environment in which real people interact socially, educationally, and professionally. The Second Life platform has allowed BEST to work with individuals, create support groups, and even share virtual respite opportunities with caregivers. Having opportunities like presenting at the Mental Health Symposium is another way to engage individuals, communities, and professionals in ongoing dialog about brain injury.
The sym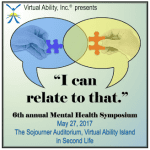 posium hosted an international group of presenters that provided a wide interpretation of the theme "I Can Relate To That!", based on their interests and academic backgrounds. Those who attended the symposium learned a variety of ways they could promote mental health for themselves and their families. Topics included Diet, Nutrition and Food Addiction, First Responder Mental Health: The Importance of Training and Intervention, and Virtual Windows: Design solutions to improve the mental health of clinical staff.
The presentations were insightful, filled with valuable information, and an excellent opportunity to share information and experiences across a broad spectrum of fields to a diverse and engaged audience.
The presentation opened with some factoids to demonstrate the uniqueness and importance of the brain. For example, the brain weighs 3 pounds and has the consistency of tofu. There are billions of neurons that make trillions of connections every second, of every minute, of every day.
It's interesting to note that most people aren't aware that when you're awake your brain produces enough electricity to power a light bulb. Did you know that the smell of chocolate increases theta brain waves and triggers feelings of relaxation?
Following the presentation the auditorium was filled with questions and shared experiences. BEST works to provide information, peer support to those with brain injury and their families in support groups, through our online courses and webinars, real world presentations & conferences, and in Second Life. Learn more about BEST in Second Life here, https://www.brainenergysupportteam.org/learning-center/best-in-second-life/
The symposium was recorded by renowned machinimatographer, Draxter Despres. You can listen to some of the presentations at the Drax Files, https://draxfiles.com/2017/05/27/show-151-mental-health-in-a-virtual-world/
Want to know more about Virtual Abilities? Visit their website at https://www.virtualability.org/