Let's celebrate the beauty of our bravery.
Our next BEST Facebook Giveaway does just that with a beautiful reminder of how brave we really are.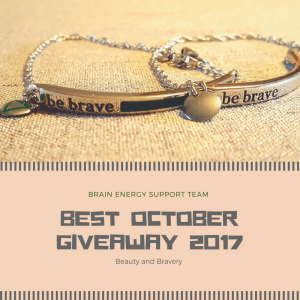 Beginning October 18, 2017 at 10 a.m. PST, BEST will be giving away TWO darling Be Brave bravelets from the Bravelet cause jewelry and accessories line as shown in the picture above. These cute and casual bracelets are perfect on their own or stacked on top of each other!
Here are more details about the jewelry:
316L stainless steel.
Hand painted enamel.
One size to fit wrists 5.5 to 7.5 inches.
BEST signature green accents.
Be brave is engraved on the bar of the bracelet.
These bracelets are perfect reminders of our own bravery or perhaps as a gift for someone to remind them of their own bravery.
Entering to win these bracelets is easy.
When you see our special Facebook post about the giveaway on the BEST Facebook page on Wednesday, October 18, 2017, beginning at 10 a.m. PST, simply like that post and you are entered into the drawing for the bracelet shown above.  The winner will be selected by random drawing on Thursday, October 19,  2017 at 3:55 p.m. PST and the announcement will be posted shortly thereafter (4:05 p.m. PST) on the BEST Facebook page. Good luck!
Added bonuses: Want to like us on Facebook while you are stopping by to enter? We'd love it! By liking our Facebook page, you'll be joining other BEST superheroes and their families in conversation, sharing news and links you can use and much more all year round.
Like the bravelet shown above? Feel free to check out the BEST Be Brave Page with Bravelets Cause Jewelry to view other featured items. Ten percent of all purchases go to support the mission and vision of BEST!
Please read: following are some important giveaway terms, conditions and eligibility requirements.
The BEST Beauty and Bravery Facebook October 2017 Giveaway will be found exclusively on the BEST Facebook page.
These giveaways are in no way sponsored, endorsed or administered by, or associated with, Facebook.
Any questions, comments or complaints regarding the promotion will be directed to Sponsor (Brain Energy Support Team), not Facebook.
The giveaway is open to all adults over the age of 18 and who reside in the continental United States.
Those who wish to participate will be asked to LIKE the post to be entered during the entry period of October 18, 2017, 10 a.m. PST to October 19, 2017 3:55 p.m. PST. Winner will be selected by random drawing and will be announced on the BEST Facebook page on October 19, 2017 by 4:05 p.m. PST.
Winner will be asked to supply mailing address to the Brain Energy Support Team (BEST) via private message (contact instructions will be noted on the winner's announcement post). Winner's contact information will remain private and will not be shared or used for any other purpose than to arrange for the shipping of the gift package.
Gift package will be mailed within three business days upon receipt of the winner's mailing address. Gift package will be shipped by standard mail through the United States Postal Service.