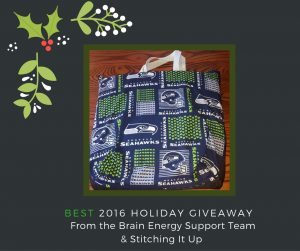 Have a sports fan in your life who is looking for a clever and practical holiday gift? This handy-dandy Seahawks-themed tote has a special surprise–it comes with a removable foam insert so it can also serve a comfy seat cushion to take to events. Two great items all in one!
This item was handcrafted by BEST Stitching It UpCoordinator, Karen Sheppard and it is the featured item for our 2016 BEST Holiday Giveaway on the BEST Facebook page.
Starting at 10 a.m. (PST) on Thursday, December 15, 2016, stop by the BEST Facebook page  and you can enter to win the tote. The winner will be selected by random drawing at 4 p.m. on Friday, December 16, 2016 at 4 p.m. (PST). The winner will be announced in a Facebook post right after the drawing.
Entering is easy. Simply like the post and you are entered to win! Read more about giveaway guidelines and rules below.