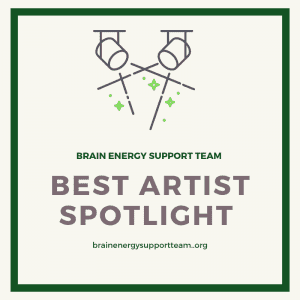 The Brain Energy Support Team (BEST) is thrilled to be participating in a community art installation at the Tacoma Art Museum (TAM) this fall.
Work will be displayed in Tacoma Art Museum's TAM Local: Community Art Space for the Superhero show from October 16, 2019 to December 26, 2019.
We will have an opening reception Thursday, October 17, 2019 in the TAM Community Art Space.
In celebration of this upcoming event, we will be featuring a BEST Artist Spotlight monthly series on the BEST website blog to share just a few of our BEST artists.
The articles will be featured until our opening reception event.
In this series, we'll share the thoughts and inspirations of BEST artists who have embraced art on their life's journey.
This month, we are focusing our spotlight on BEST Artist, Jennifer McCarthy.
Here's more on the artist.
____________________________________________________________________
Where does Jennifer McCarthy find her superpowers?
She finds them through music, art and words; even more so, she adores sharing these passions with others.
The Moses Lake, Washington resident blends music, art, and performance as a French and German language instructor at Big Bend Community College. Her language students engage with learning with singing songs; studies have shown that students learn better with music. She has also organized local "flash mobs" of singing foreign language students.
Jennifer also sings and performs on her own. Please check out her video below from a community talent show with her French adaptation of Bob Dylan's song, Not Dark Yet.
To note, in the video, an artist is also creating a painting during Jennifer's performance.
In addition to teaching and music, Jennifer loves to create art on canvas and paper.
Jennifer's Connection to BEST: Jennifer is brain injury survivor, as well as supporting other brain injury survivors as a brain injury support group facilitator in Moses Lake. Jennifer obtained her brain injury in a car accident at age 14. She recovered, with the help of her loving family; however, at the time of her injury, there was not the kinds of support systems in place and awareness, as we have currently. Jennifer moved forward on her journey anyway, including completing school, studying abroad and obtaining her master's degree in French. After moving from the East Coast with her husband in the year 2000 to Moses Lake, and then becoming a mom to two children, Jennifer began to learn more about her own brain injury, Post-Traumatic Stress Disorder (PTSD), and vision therapy. She was eager to share her story, share what's she learned and offer support to others in the brain injury community.
She has now been a support group facilitator for 10 years.
Jennifer's Connections to Art: Singing, music, painting, drawing, cooking, and crafting.
Jennifer's Favorite Art to Create: "Music and singing. Singing is my favorite art form. Singing introduced me to possibilities and the possibilities in our own little worlds.
I just love to sing; when I am singing, I'm my true self."
Theme of Jennifer's Art: "I feel art is an outlet; a way for me to be me.
I'm attracted to bright colors, things that are loud and things that make a statement.
Love is also a theme of my art. Love and nurturing; whether I'm nurturing myself or others." 
Why Art is Special to Jennifer: "It's a way to tell off trouble, naysayers and your own situation.
I also feel excited to create art, especially for others. For example, I created a picture for my young nephew in Massachusetts. I felt like I was channeling love when I did it." 
Jennifer's Favorite Superhero Characteristics: "In my own immediate family, we refer to ourselves as superheroes. We celebrate the things were good at.
A superhero is someone who knows his or her own strengths. They use them to help themselves and others on their journey through life."
To learn more about the community art installation program, the Tacoma Art Museum (TAM), and how you can participate as a local BEST artist, please click here.