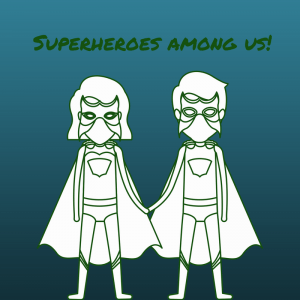 The Brain Energy Support Team (BEST) is pleased to sponsor a monthly program to honor, recognize and celebrate the superheroes! Whether it's a survivor, family member, caregiver, medical professional or community supporter, there are superheroes among us who are engaging, energizing and empowering the brain injury community.
The BEST Superhero of the Month is available to honor all BEST Superheroes near or far. Check out the details by clicking HERE and nominate your superhero today!
We started honoring superheroes in May 2017. Meet our BEST Superheroes of the Month for May 2017  through December 2017 and read their stories below by clicking on their names!
BEST Superhero of the Month May 2017 Kathi Sturgeon
BEST Superhero of the Month June 2017 Lou Nash 
BEST Superhero of the Month July 2017 Isaac Peterson 
BEST Superhero of the Month August 2017 Robin Spicuzza
BEST Superhero of the Month September 2017 Janet Mott
BEST Superhero of the Month October 2017 Emily Lowndes-Wright
BEST Superhero of the Month November 2017 Ellen Krawiecki
BEST Superhero of the Month December 2017 Michelle Munt