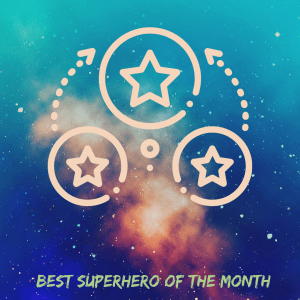 In order for superheroes to help others, sometimes they have to adapt their superpowers; and even sometimes, they have to do this really quickly. 
Our BEST Superhero of the Month for May 2020 is a real-life superhero who has done just that. 
Meet Karen Ljunggren. 
Karen is the support group facilitator for Bellevue/Eastside brain injury support group in King County in Washington State. Karen's adapted quickly to make sure her support group felt connected, informed, and supported during all of the changes brought on by the COVID-19 pandemic. 
Her passion to help others and enthusiasm to serve shine brightly as she helps others soar even during these challenging and unprecedented times. 
Read on for what her nominator had to say about her. 
A pandemic hasn't stopped this strong advocate from continuing to find ways to keep her support group connected. Karen's tireless advocacy has reached all corners of  the eastside Seattle as she does her best to ensure those who need support most are getting it.
Karen keeps not only everyone in the Bellevue/Eastside support group, but everyone in her network, informed of important health and news items that impact our community. 
Karen enthusiastically began using group calls and video conferencing to help her group stay together and connected through these difficult times. Her group was so excited that their monthly group now meets online weekly.
Karen's support of BEST is equally enthusiastic as she engages in our regular Facilitator Chats and other online activities we host.
Thank you Karen for all that you do for our community! 
Know a real-life superhero in the brain injury community that you'd like to share with us? Nominate them today for the BEST Superhero of the Month. 
Click here to learn more.