Catchy title, right? I didn't come up with it. All credit goes to Karen Horneffer-Ginter, including the artistry for the infographic in this post, too.
What I can tell you is that taking breaks is important. We spend a lot of brain bucks staring at the computer, scrolling through the headlines, and checking off items from our ToDo list, among a host of other things. Breaks from our daily routine are necessary for our physical health, emotional well being, and mental clarity.
This wonderful infographic gives you 50 fabulous break suggestions. Sure some of them are probably not the best to do during this pandemic, but there are plenty to choose from so I'm sure you'll find more than a few that you can do and enjoy. Try scheduling these break ideas throughout your day to ensure you remain balanced and healthy.
Benefits of regular breaks include:
Increased ability to focus on your task when you return to it

Breaks motivate you to move into new tasks or complete what you've started.

Helps you conserve and replenish brain bucks

Minimize brain drain and neuro-fatigue

Physical aches and pains are minimized when you get up and move from sitting still too long
Remember,  the best breaks are opposite of what you've been doing. For example, if you've been cleaning house all morning relax with a book and cup of tea or spend 5 minutes meditating. Conversely, if you've been hunched over paperwork or your computer then go for a walk and breathe in some fresh air.
Consider printing this infographic and carrying it with you or posting it over your desk or on the refrigerator. Then you'll have break ideas at a glance.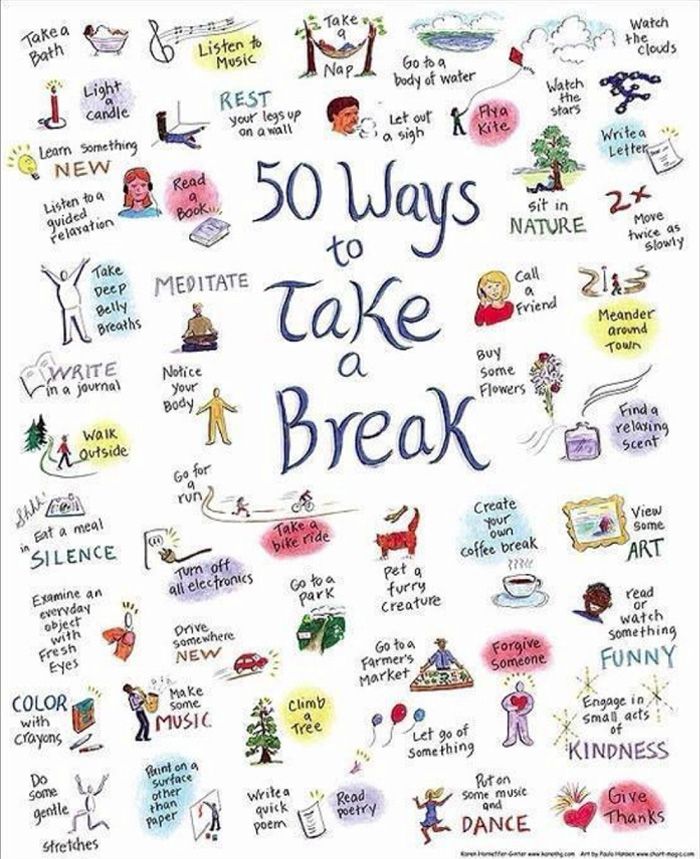 | | |
| --- | --- |
| | Gloria's career as an independent nonprofit consultant, trainer, and writer spans over 30 years giving her lots to talk about. She has a deep passion for sustainability, both environmentally and organizationally. Enjoy her perspectives on community, development, and tales from her virtual world travels. |