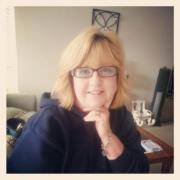 Being near the ocean is a special experience for many people. Perhaps it's that breath of really fresh air; the comfort of a soothing cool ocean breeze; the gentle sound and ebb and flow of the water. Coupled with a sense of wonder, the ocean brings past, present and future all into a place of appreciation and profound learning.
Brain Energy Support Team member and TBI survivor, Barb George is much like the ocean: special, a breath of fresh air, comforting, gentle and at the ready to appreciate things and learn from them.
The fact that George actually lives in Grays Harbor County, near the sea, is no surprise; it just fits in more ways than one.
George began life in Burien, Washington. As an infant, she and her family moved east and found themselves in Pennsylvania and New Jersey for a number of years, before returning to the Tacoma, Washington area. There were more moves: Oregon, Georgia and Southwestern Washington. However, three years ago, Grays Harbor beckoned.
"We chose Grays Harbor, after realizing I felt better when on the coastal areas," explains George. "The climate and the lack of barometric pressure changes has been a drastic change for the better for me."
George and her husband Jim, welcome the feel of small coastal town life. The couple enjoys getting involved and being active in their adopted and much loved community. Both take part in the local seaport, Habitat for Humanity and on other shore clean-up teams. Barb George also works for a group that does wild life rescue and other things to support the environment.
While George looks with an eye to the future, particularly with her community involvement, she also lovingly enjoys the past. She and her husband own a 100 year old home that houses George's collections of antiques and vintage toys. The couple also enjoys re-purposing items; everything from furniture to vintage trailers.
But if you really want to see George smile, ask her about her family. Family means the world to George, especially spending lots of time with her six beloved grandchildren, something she positively adores.
"I have four children. Jim and I blended our family 20 years ago," says George. "We have six grandchildren, ages six months to 16 years."
George also loves her BEST family. She has been involved with BEST for a little over three years and serves as the board secretary and she is the facilitator of the Grays Harbor Brain Injury Support Group that meets each week. After initially meeting BEST founder and Chief Visionary Officer, Penny Condoll, along with BEST Executive Director, Gloria Kraegel, George felt really good about their mission and vision for BEST.
"I feel very strongly about BEST being supportive to our community; and my heart truly lies in the rural area," says George. "My accident happened nearly 10 years ago. I was alone on our mountain in Southwestern Washington State, and (I) found myself terribly frustrated. It hurt that I was in such pain, but not able to find a group."
"BEST came into my life after many treks through the internet. I belonged to several online groups, and am still involved in some; but (I) found that the internet can be fickle in emotional situations sometimes. I needed face to face contact and it just was not available to me."
Support was critical to George in the past, just as it is today. She is a double TBI survivor (she was head-butted by a horse in the summer of 2004 and had a bad fall a mere six months later, injuring the same area of her head). George has short term memory issues, aphasia and fatigue. The brain injuries brought about a number of life changes.
"I spent a number of years in a darkened room, alone and in pain. I had to close my company after my accident," shares George.
"Since moving to the harbor, I have been able to go back to work 3 days a week, with a supportive boss. The pace is fast, but my co- workers help me with grace. What I have learned is balance. Well, I am continuing to learn balance! I truly feel that my accident happened because I was juggling too many hard things at once. What I have learned is to lean on others and not think for a moment I can do it all."
As George's journey continues and as she continues to help and support others on their personal journeys, her words sum up the BEST experience.
"I feel that the BEST group is vital to growing awareness about TBIs. Penny and Gloria, as well as all the other wonderful people, are so bright and know how to bring out the BEST in others!"
Have a BEST story you'd like to share? Contact Kim T. at kimt@brainenergysupportteam.org.