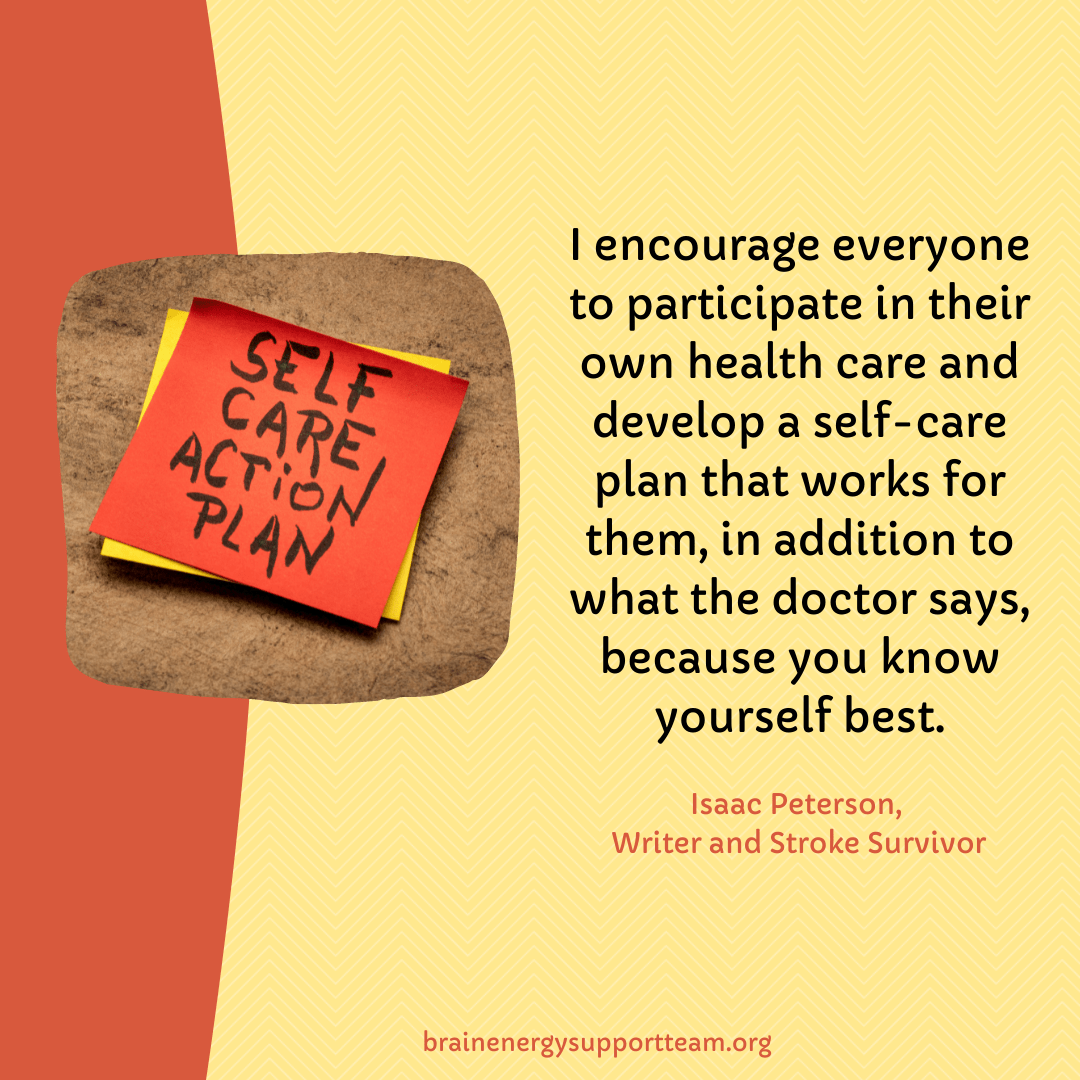 I just got home from seeing my primary doctor.
It was just a routine exam that would let me know how well my self-care program has—or hasn't– been working out.
Turned out the hardest part, as usual, was sitting waiting for my turn.
But my overall exam results were good.
Here is the outcome: 
Heart: Good
Lungs: Good
Blood pressure: Okay
Oxygen level: Good
Weight/body mass index (BMI): Good
Colon screening results: Good
At my previous visit last month,  the doctor had a mild concern about my kidneys. There was some indication that I might have the beginnings of deposits in my kidneys, but today the doctor said everything now looked fine.
As part of my self-care program I had started drinking orange juice every day. I had read that citrus can break down deposits or prevent them altogether. I don't know for sure whether the good news now was due to the orange juice, but I will take all the good news I can get.
Besides, I really like orange juice.
I'm going to permanently add daily orange juice to my self-care program, along with the water I drink all the time for hydration.
I'm also going to keep up the walking, which has always been part of my self-care program. I have walked at least 45 minutes a day, sometimes more. I've also started doing push-ups, sit-ups and squats.
I would eat better if I could, but in my current living situation, we are unable to prepare our own meals. I'm doing my best, despite the challenges of the meals I have to work with. 
My blood pressure had been a problem before, and I got a massive stroke to show for not getting it diagnosed and treated. My blood pressure is under control now. I never miss or skip my meds.
But the best news was I didn't need to have another blood test, thank goodness. I had one on my previous visit and I guess that was good enough for the doctor this time. Maybe he forgot or something, but I sure wasn't going to remind him to stick a sharp needle in my arm. I can't quite put my finger on it, but there is just something about sharp objects piercing my flesh that really turns me all the way off. I'm funny like that.
When we were done, my doctor told me I was in reasonably good shape (and thankfully he didn't add for a guy your age. We talked for a minute about my self-care and he told me to continue, as it seems to be working. I don't need to see him again until some time next fall for a routine visit.
So it looks like I'm in tip-top TBI superhero fighting form.
Going to the doctor is in itself part of my self-care. It's a kind of real time progress report on how well my program is working out for me. Although you know what's best for you, a doctor can find things you may not be aware of. As I've stated, although I had always felt great, if I had bothered to make it in and get looked at by a doctor, my hypertension could have been diagnosed and treated and I probably
would not have found out first hand all the joy that goes with experiencing a major stroke (there actually wasn't much joy involved, take my word for it).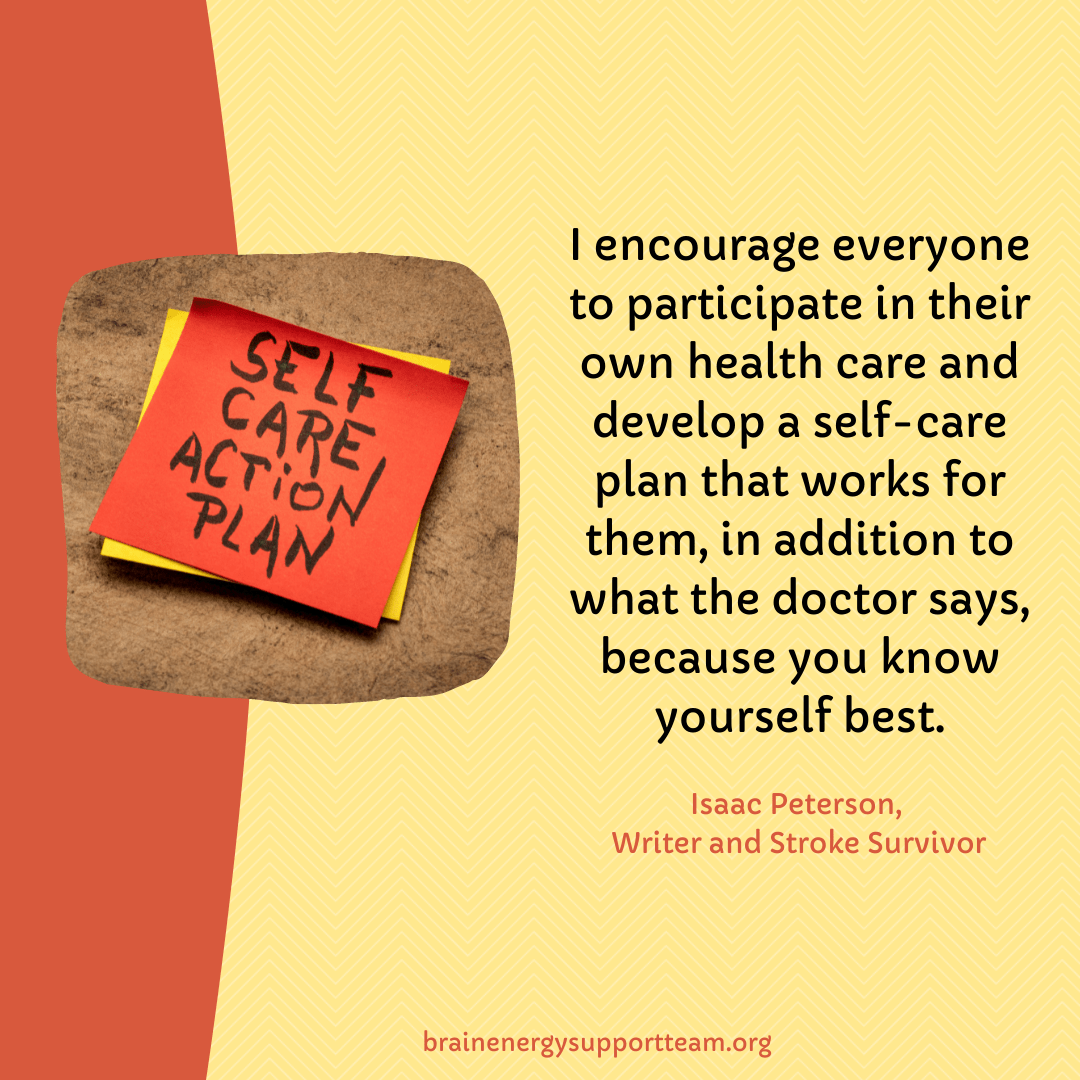 I encourage everyone to participate in their own health care and develop a self-care plan that works for them, in addition to what the doctor says, because you know yourself best.
Participate in maintaining your own health and well being. Insist on it: you should feel free to ask questions and have them answered. Make as many decisions on your own and talk with your doctor about them.
My doctor didn't recommend drinking orange juice to fix whatever the concern was with my kidneys—I came up with that myself and the doctor confirmed it was a good decision.
I believe in doing my best on my own, but I feel like I'm in a partnership with my doctor. I do what I'm able to do and he does what he's able to. The big winner in the long run is me.
Even better: the thing I like best about my own self-care plan is it doesn't include needles.
| | |
| --- | --- |
| | Isaac Peterson grew up on an Air Force base near  Cheyenne, Wyoming. After graduating from the University of Wyoming, he embarked on a career as an award-winning investigative journalist and as a semi-professional musician in the Twin Cities, the place he called home on and off for 35 years. He doesn't mind it at all if someone offers to pick up his restaurant tab and, also, welcomes reader comments. Email him at isaac3rd@gmail.com. Read more articles by Isaac here; https://www.brainenergysupportteam.org/archives/tag/isaac-peterson |