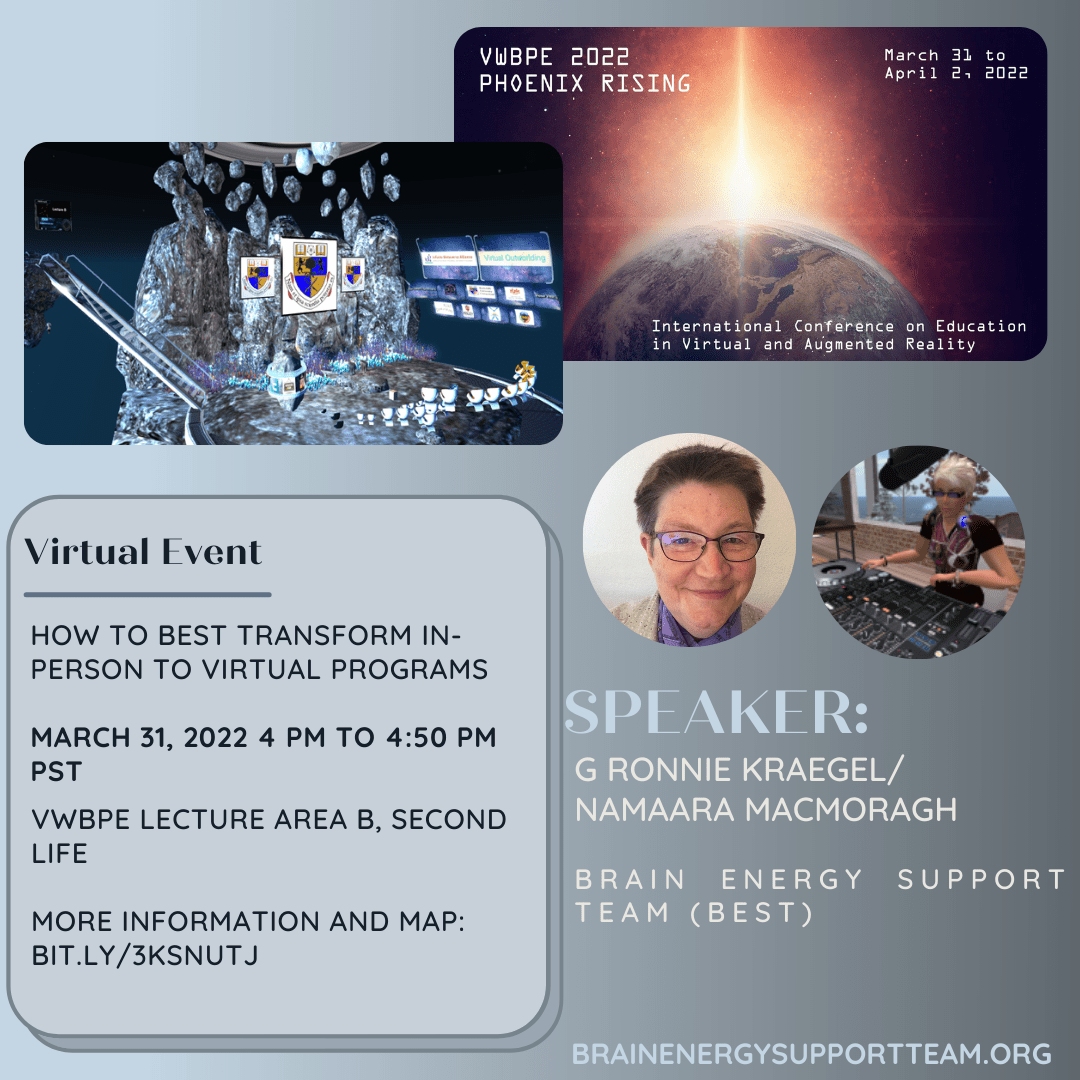 The upcoming 15th annual Virtual Worlds Best Practices in Education Conference
 focuses on the use of immersive virtual environments for educational purposes including virtual and augmented reality. 
The Brain Energy Support Team's (BEST's) own
Gloria Kraegel/Namaara MacMoragh
will be sharing BEST's story on transforming in person programs and services to virtual platforms as the result of the Covid-19 pandemic. 
BEST Virtual
 is going strong, and offers unique opportunities for the brain injury community and beyond. 
Mark your calendars for March 31, 2022 and join Gloria/Namaara for an inspiring and energizing conversation at the virtual conference in Second Life. There is no charge to attend. 
See links and flyer attached below for additional details. 
New to Second Life? Join BEST today!  Click 
here
 to get started quickly and securely. 
Here are the details: 
WHEN: March 31, 2022 @ 04:00 PM – 04:50 PM America/Los Angeles Time Zone
Speaker: G Ronnie Kraegel / Namaara MacMoragh, Brain Energy Support Team (BEST) 
In 2020, the Brain Energy Support Team (BEST) was rocked by the COVID pandemic. In-person programs were closed and a major funding source shifted priorities impacting BEST financially. Capitalizing on its online and Second Life presence and partners, BEST continues serving the brain injury community. The benefits of learning social, sustainable, and behavioral skills in a virtual world provide unique opportunities and, demonstrate the value of virtual worlds for organizational sustainability.
Accessibility: Speakeasy HUD tool
Location: http://maps.secondlife.com/secondlife/VWBPE%20Aquila/165/211/1419