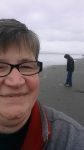 I know I haven't written as much about our travels as I thought I might, but oh what a year it's been. The map looked something like this – Tacoma to Sequim via Longbranch and Shelton, Grays Harbor to Vancouver. We've been to Olympia, Seattle, Monroe and up to Birch Bay. Over the mountains through Wenatchee to Spokane and back to Seattle through Moses Lake, Ellensburg, Yakima, and my favorite stop; Cle Elum. Okay, so there isn't a support group in Cle Elum, but there is a terrific meat shop.
We've been on the road visiting communities across WA, meeting with community partners, and sharing time and ideas with support groups throughout the State. What a terrific time we've had. As much as I've loved the time we've spent with friends across the state the landscapes, towns, and water have been equally wonderful to see and be a part of. I'm a NY transplant and the diversity in WA environments has fascinated, entertained, and at times, stunned me … often to Penny's amusement.
Our heartfelt thanks to Barb, Craig, Maggie, Shonti, Carolyn, Emily, Bethany, Ashley, Janet N, Danny, Pirate Dan, Robin, Lou, Jeff, Josh V, Angela & Josh, Laura, Nancy, Nick, Kim, Diane, John R, John L, Karen S, Des, Michele, Joel, Mary, Janet M, Tim, Channa, Lianne, Janice, Jennifer S, Karen L, Jennifer M, Angie, David, Brandon, Jon, and everyone I've forgotten to mention here.
Here's a glimpse of our travels …

That's just a taste of what we've done and where we've been. If you have photos you'd like to share that we might include in a longer film please send them to kimt at brainenergysuportteam dot org. We'd love to include your superheroes in our stories.
And if you have stories we can share with our superheroes send them, too.