This page is currently being updated.
For questions about peer support in Washington State call 877-719-2378. Thank You.
Support Groups provide a safe place for everyone to share their experiences, learn new skills, and find resources that can help. The value and benefit of peer support cannot be understated. However, due to COVID-19 in-person support groups are limited. Please contact the facilitator listed for details.
BEST offers a variety of ways to keep you connected and engaged:
Our online peer-led support group. This group is a private group. Please join the BEST community to get details and meeting times.

BEST Brain Injury Discussion in Second Life. This monthly campfire discussion is open to all Second Life members (free to join).
BEST Caregiver Respite in Second Life. BEST uses the virtual world of Second Life to give caregivers a chance to come together and share their time and experiences while visiting special places such as Tsidel's Cafe or the Etopia Farmers Market.
The map shown below is a visual breakdown of which counties are in each region. Below the map groups are listed by county so that you can easily find a support group meeting near you.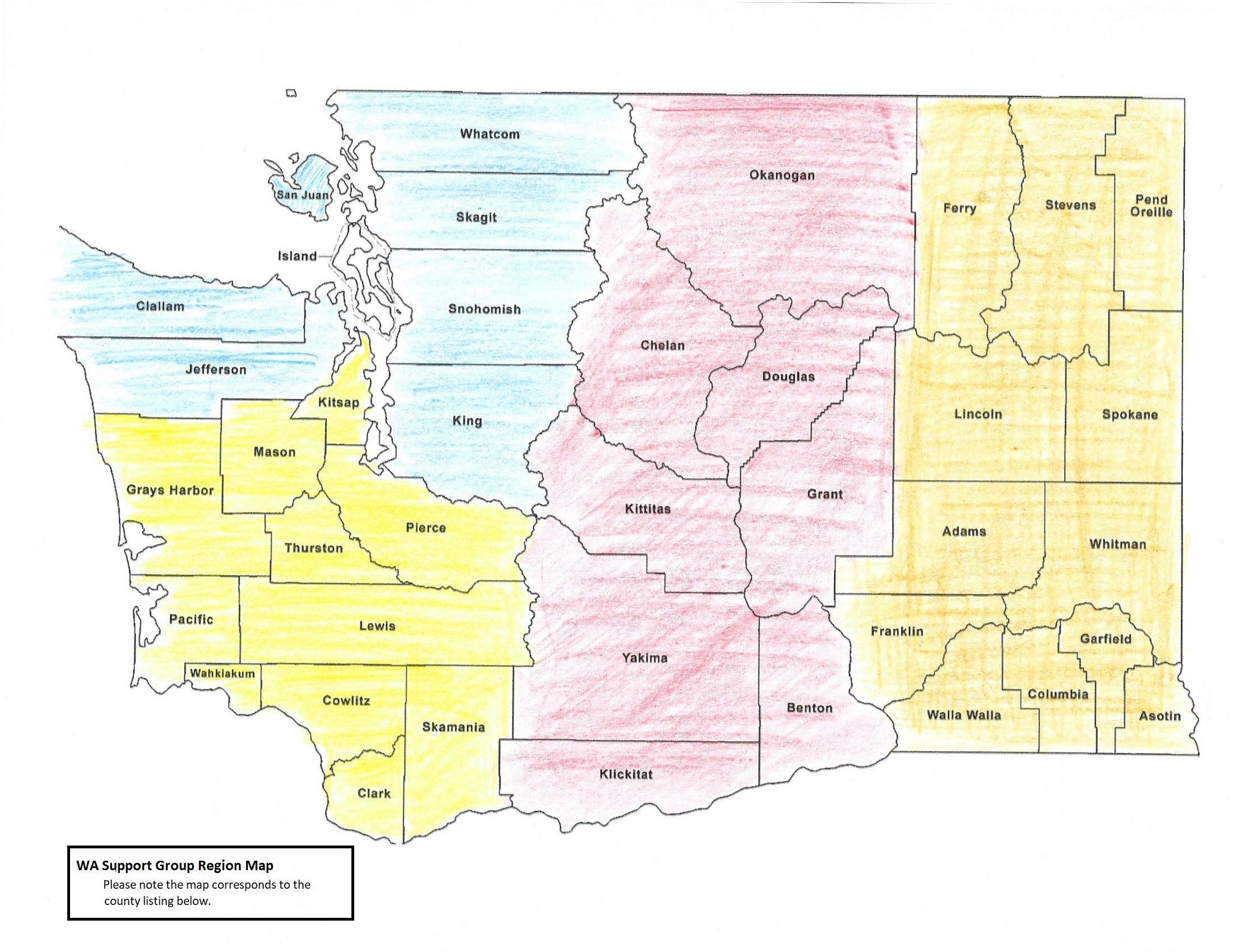 Central WA Region – Counties include Benton, Chelan, Douglas, Grant, Kittatas, Klickitat, Okanogan, and Yakima.
Eastern WA Region – Counties include Adams, Asotin, Columbia, Franklin, Ferry, Garfield, Lincoln, Pend Orelle, Spokane, Stevens, Walla Walla, and Whitman.
Northwest WA Region – Counties include Clallam, Jefferson, King, San Juan, Skagit, Snohomish, and Whatcom.
Southwest WA Region – Counties include Clark, Cowlitz, Grays Harbor, Kitsap, Lewis, Mason, Pacific, Pierce, Skamania, Thurston, and Wahkiakum.
WA State Peer Support Groups
Benton
Chelan
Douglas
Grant
Kittatas
Klickitat
Okanogan
Yakima
Adams
Asotin
Columbia
Franklin
Ferry
Garfield
Lincoln
Pend Orelle
Spokane
Stevens
Walla Walla
Whitman
Clallam
Jefferson
King
San Juan
Skagit
Snohomish
Whatcom
Clark
Cowlitz
Grays Harbor
Kitsap
Lewis
Mason
Pacific
Pierce
Skamania
Thurston
Wahkiakum