I think we can all agree that 2020 has been a most challenging year. The politics of the day coupled with the impact of the COVID-19 pandemic reshaped the way we navigate our lives.
For BEST it was a year of dramatic change. We kicked off the year with our 1st annual virtual CogniCon (cognitive convention). The idea was to test the waters and see if there was enough demand for us to host a completely online conference because there are those within the brain injury community that cannot attend the many in-person gatherings, symposiums, and conferences offered to us.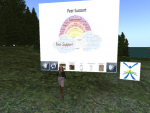 Our focus was to create an interactive, superhero-themed experience in Second Life. If there was enough interest we would offer a web-based conference in the Fall. Our CogniCon 2020 was a great success with plenty of interest and engagement. Over 100 people visited our demonstrations, attended presentations, and participated in workshops.
That was February 28th and 29th.
By March 9th COVID-19 forced all of our in-person activities to shut down. By May 30th we were closing our physical locations. And by the end of June BEST no longer had a contract with WA State to administer funding and support to 67 brain injury support groups that provided connection, resources, and a sense of community to over 1,000 monthly participants.
Many organizations of our size closed their doors and no longer provide the vital services their communities depend on. I was proud of the way our BEST team stood strong and adapted to the challenges presented to us to continue supporting our community in new and creative ways.
Though 2021 will start with many of the challenges that made 2020 a difficult year, BEST is determined to continue to provide the support, resources, education, and opportunities our community has relied upon and enjoyed for 12 years.
In Washington State in-person support groups are still suspended. We will continue to work with facilitators to ensure that their group members and their families remain informed and supported during the pandemic. As part of the peer support our community wants and needs BEST has partnered with Imaginal Network to provide a monthly online Virtual Support Group. It was such a success within our Washington brain injury community in 2020 we've opened registration for 2021 and you can find out more here.
BEST has always had a strong educational component to our programming. That hasn't changed because of the challenges of 2020. In fact, in January, we are launching three new courses in our online learning center; Beginning Yoga for Brain Injury, Coping With Stress, and Dealing With Loneliness. Our Identity & Moving Beyond Brain Injury course is now a full interactive program offered in Second Life with 3D symbolic modeling workshops, skills development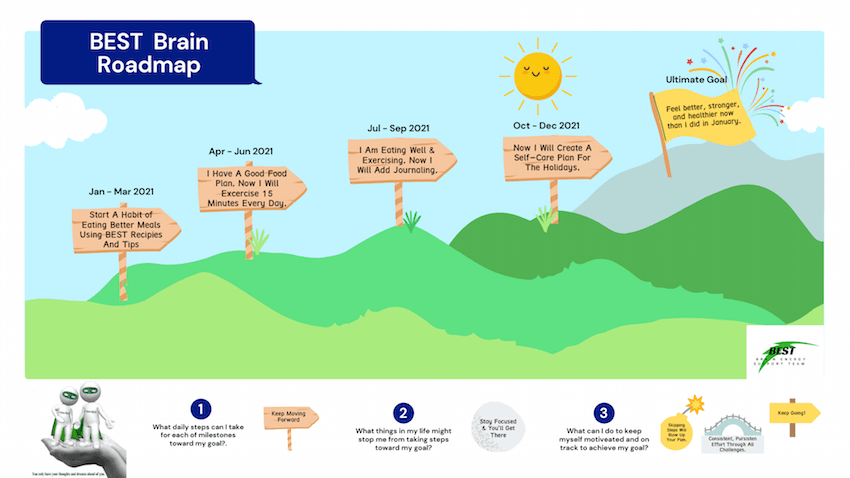 and practice sessions, and more.
Wondering what else we have in store for 2021? New items for your health and wellness will be launched every month. January will introduce our BEST Priority Planner and our visual BEST Brain Roadmap tool. Be sure to sign up for our newsletter and never miss a beat. And if you sign up now you'll receive a free copy of our 5-Minute Meditation Guide.
And that's not all. Our online Superhero Shoppe is stocked with items from crafters, artists, and others from our community. Shopping to support BEST whether at our Superhero Shoppe, smile.Amazon, or getting your BEST merch to show your brain power all supports BEST programs. It's a win-win for everyone.
We're excited about 2021 and we invite you to connect, learn, grow, and be your very BEST self in the new year.
| | |
| --- | --- |
| | Gloria's career as an independent nonprofit consultant, trainer, and writer spans over 30 years giving her lots to talk about. She has a deep passion for sustainability, both environmentally and organizationally. Enjoy her perspectives on community, development, and tales from her virtual world travels. |