It wasn't until I had been discharged from a month-long hospital stay in 2016 after experiencing a major stroke that I had even heard of the Brain Energy Support Team (BEST). For some reason I don't really know or understand, I decided to get into a support group. The social worker at the hospital gave me a list of groups and I set out to make calls for information and choose the one I thought would work best for me.
I called the first number on the list and spoke with a man named Jeff. After we spoke for just a couple of minute, I felt I didn't need to make any more calls. Jeff was somehow comforting and reassuring and seemed like a favorite-uncle-type.
I didn't need to look any further; I had found my support group.
After only about three group meetings, Jeff approached me with a proposition: write pieces for BEST's blog space. I was hesitant, but Jeff seemed to believe in me (for some reason), and I finally gave in and tried it.
It turned out to be a successful move, and the high profile writing that blog gave me has given me a great deal of credibility in the brain injury community. It seems I am seen by some as an inspiration and a role model.
Now that Jeff spotted my potential and presented me with an opportunity to use it in service of brain injury survivors.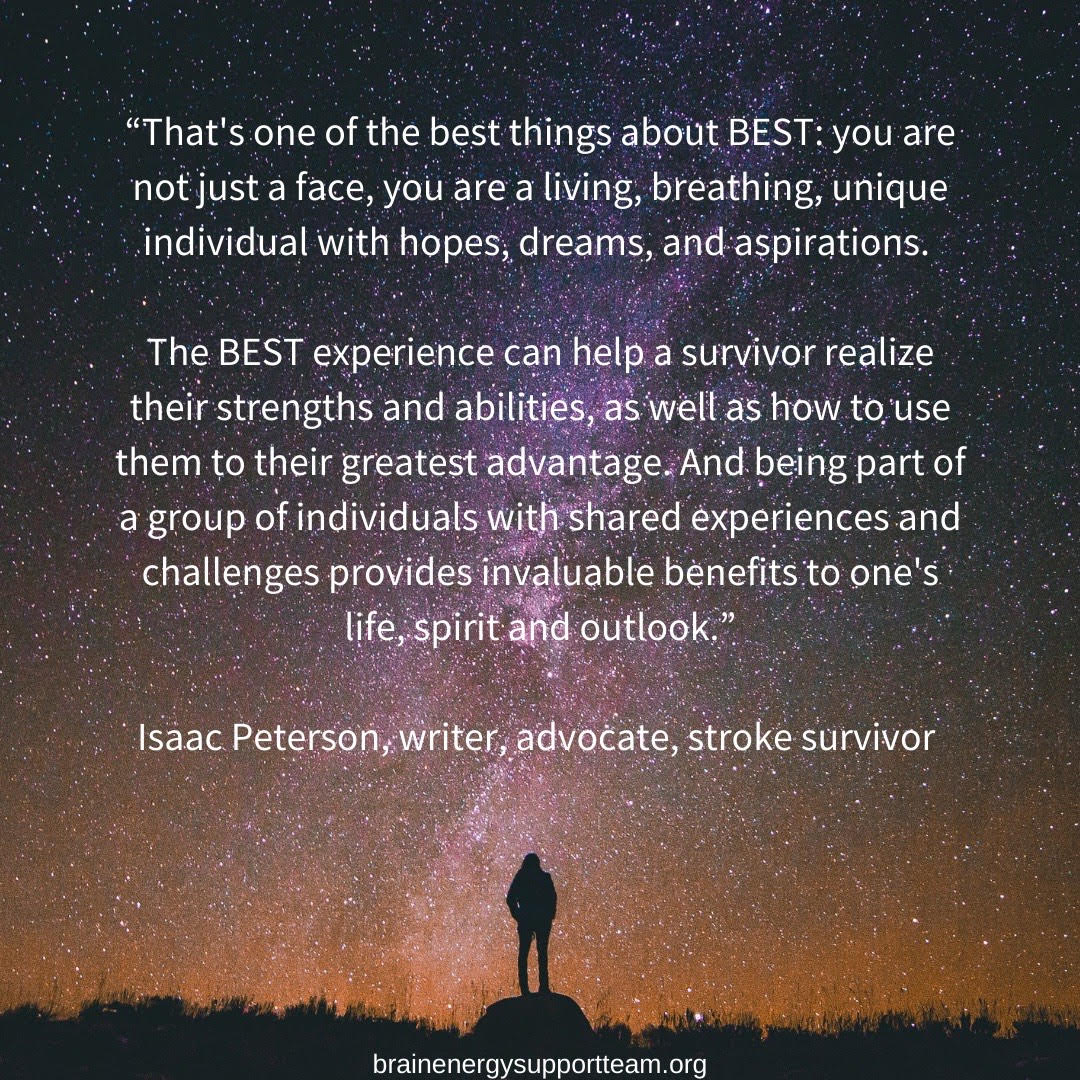 That's one of the best things about BEST: you are not just a face, you are a living, breathing, unique individual with hopes, dreams, and aspirations.
The BEST experience can help a survivor realize their strengths and abilities, as well as how to use them to their greatest advantage. And being part of a group of individuals with shared experiences and challenges provides invaluable benefits to one's life, spirit and outlook.
BEST does all that and more, and not just through its support groups. 
Apart from being great therapy, on the strength of that blog (to which I still contribute), I have:
Been invited to aid a group in a successful effort to get a brain injury service-related proposal passed into law. I became one of the main voices in that effort and received an invitation to attend the signing ceremony.
Been invited to serve on an ongoing panel that's part of Washington State's health and human services agency. That panel examines issues with the state's delivery of services, certifying and training caregivers and other issues affecting provision of services to Washington's disabled community.
Served on another panel created by the state senate to examine abuse, harassment and discrimination against seniors. We worked to create recommendations to improve identifying and rectifying issues, and recently submitted a report of our findings to the senate.
Received many requests from fellow brain injury survivors for information and advice. After the pandemic I hope to do some speaking.
I have an invitation to participate in another such group beginning early in the new year.
And of course, BEST provided me the opportunity to make lots of good friends with whom I can socialize and understand what living with a brain injury means. Through BEST I've gained a whole support network filled with dear friends, many of whom I will be friends for the rest of our lives.
BEST's support group certainly lives up to its promise.
Apart from the support groups, BEST provides support, activities, and access to organizations assisting people with issues affecting people with traumatic brain injuries.
BEST is a one-stop shop for brain injury survivors in Washington State and beyond.
If you are a brain injury survivor, joining the Brain Energy Support Team is about the BEST thing you could do for yourself. 
BEST is simply the best.
To support BEST, you can make an online donation here. If you prefer to mail in your donation, click here. 
| | |
| --- | --- |
| | Isaac Peterson grew up on an Air Force base near  Cheyenne, Wyoming. After graduating from the University of Wyoming, he embarked on a career as an award-winning investigative journalist and as a semi-professional musician in the Twin Cities, the place he called home on and off for 35 years. He doesn't mind it at all if someone offers to pick up his restaurant tab and, also, welcomes reader comments. Email him at isaac3rd@gmail.com. Read more articles by Isaac here; https://www.brainenergysupportteam.org/archives/tag/isaac-peterson |