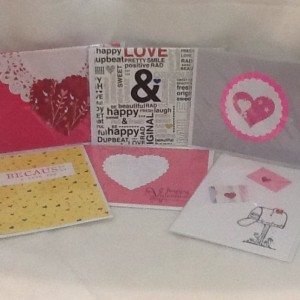 Paper artist, entrepreneur, Brain Energy Support (BEST) team member and brain injury survivor, Diane Rasch, is on a mission of the most beautiful kind.
It all began nearly two years ago, when Rasch was refining, developing and exploring her skills as a paper artist. Along with her time and her talents, there was also Rasch's personal passion to make others feel special, acknowledged and cared about coupled with the mission to bring back the "personal touch" that tends to get lost in the shuffle of today's busy and technological world.
She started a project at the BEST Tacoma and Puyallup support groups to send beautiful, handcrafted birthday cards with a personalized, handwritten birthday greeting from BEST to support group members celebrating birthdays.
It didn't take long before Rasch would get special requests for cards or if someone mentioned an upcoming birthday at the group meeting, Rasch would surprise that person with a card.
While support group patrons really enjoyed and appreciated the cards, it was one member in particular that touched Rasch's heart.
To preface the story, Rasch puts a return address on the card's envelope, but not her name, in the upper left hand corner. She distinctly remembers one day receiving a card in the mail, with just her address on it, no name. Curious, she opened the card; in doing so, she had an electrifying life moment.
"When I opened that card, I was surprised to see that it was a 'thank you' card," says Rasch. "The card was from someone in the support group I had sent a birthday card to. He told me how much that birthday card meant to him because it was the only birthday card he got."
To this day, Rasch, still gets emotional thinking about it.
"It still makes me cry," she smiles (through the welling tears).
And while it stirred her emotions at that time, it also strengthened her resolve to continue her good works with her handcrafted cards.
"I thought, wouldn't it be cool if everybody could get one?" said Rasch with a smile. "It's now become my goal to get a birthday card to every support group member in Washington State."
Rasch is making good on her promise and some.
In 2014, Rasch expanded her "Birthday Card" project to include other special occasions, milestones and requests of support, such as get well cards and cards offering congratulations. As an adjunct project, the "You are Special," campaign was launched as well. Using a special form, the campaign gathers information from BEST members such as personal hobbies, favorite colors and the like. Rasch uses this information to make each card more personalized and tailored to the recipient.
She takes great joy in making each card extra special for each individual.
It's working.
"What I found out, is that there's lots of enthusiasm for this and it's really making an impact."
Rasch has been working with support group facilitators around the state on both projects and has given presentations at local support groups.
"This is my heart now, to get this to happen. It's really exciting me!"
Indeed.
And while Rasch isn't working to spread the BEST messages of kindness, she's busy at work with her successful local paper arts business, Heartfelt Tidbits of Creativity. Rasch's creations are sold through area retailers (online and in store), the local online shopping site Shop253.com and at BEST.
Learn more about her creations on the company's Facebook page.
To learn more about Rasch's card project, please contact us at BEST.