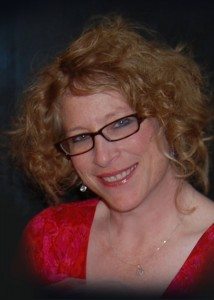 Rochelle Gordon feels blessed in many ways.
The wife, mother, grandmother, businesswoman, artist and Thurston County resident cherishes and reveres her life, family, friendships and strong faith; this passion shows through each and every day. In fact, Gordon's positive, energetic and happy spirit is known to many.
However, what many may not know is that she was not always this way.
"I struggled with depression and unhappiness," explains Gordon. "I have had a lot of support and healing, but needed something to help me learn a different way of thinking.  I needed a new vocabulary and new thoughts."
Gordon pondered how she could "flip" negatives into positives. Along with some help from her beloved husband, Blair, they began practicing different techniques and strategies to achieve this goal. Before Gordon knew it, she had uncovered new thinking, resources and skills that profoundly changed her life and relationships for the better. Eager to share her discoveries with others, she refined, developed and honed her skills to create a simple, yet profound program that everyone can relate to.
Gordon's program, called the "Flip IT Workshops," consist of three sets of four week classes. Participants begin with the "Flip It to Thankfulness" workshop, where they learn to identify and articulate needs, thoughts and feelings and connection with others through gratitude. The second workshop explores identity and destiny and the final workshop coaches participants in expression.
Gordon is thrilled to share the program with others.
"My heart is to help others learn how to be positive and retrain their brain to have more joy and grow in their ability to connect with others," says Gordon. "I want to give everyone the chance to learn and practice retraining your brain to create joy and to have positive, fun and effective communication with others."
Gordon continues, "I want people to walk out the door knowing how to 'Flip IT.' I hope that they will start 'Flipping IT' as soon as they wake up the next morning.  It is so fun to be around others who are 'Flipping IT.'  It's contagious!  Flip IT is very practical. Some things are harder to flip than others, but the more you practice, the better you get.  It is really exciting to watch someone understand and use it.  When people start sharing their Flip IT stories, it's like a happy party."
So, what does Gordon think the most important benefit of the Flip IT workshops are? Simplicity and being enjoyable are the key elements for the program creator.
"It is easy and fun, yet very powerful.  Flipping IT to be positive has physical and mental benefits.  Not only can you create a happy state of mind, you can open the door for opportunities you never saw before for your future. Flip IT can bring hope.
Also, our Flip IT lessons build on each other.  You learn a new lesson, but also get to practice the ones you have already learned."
Gordon did a soft launch of the program with a couple of the BEST support groups in the past year. Gordon was thrilled to present to these groups.
"We loved sharing with BEST support groups!  Our 'BEST' friends are a delight to be with.  I feel so accepted and affirmed when we are together.  I appreciated hearing their fantastic Flip IT stories!   It meant the world to me to get to share with our BEST friends."
The Flip Workshops will be part of the BEST Learning Center 2015 fall programming. Stay tuned for upcoming details.
In the meantime, for more workshop information, please contact Rochelle Gordon at (360)-789-5575 or rhizz@comcast.net.