I think everyone who has ever spoken with me about virtual worlds has seen my eyes light up as I launch into lengthy descriptions of friends, activities, uses, and relevance of this platform for communication, education, and social engagement so when Kim asked me to write about BEST in Second Life (SL) I jumped at the chance to share what we've been up to. Little did I know I'd ponder, edit, rephrase, and edit (and edit, and edit …) so that readers of this post wouldn't fall asleep (*smiles*).
I began playing in Second Life 10 years ago when friends at Syracuse University introduced me to a workgroup exploring gaming in education. I didn't get immersed in SL until a couple of years later when I read about a consultant who used the platform for collaboration with clients. My mind lit up with the possibilities for my own work as a nonprofit consultant and the clients I worked with on the east coast. It didn't take long before I was working with clients and others from around the world. That's when I met Penny.
We met at a gathering place for nonprofit leaders in SL and began talking about BEST; a newly forming organization and how I might help with their development. What did that look like in 2008?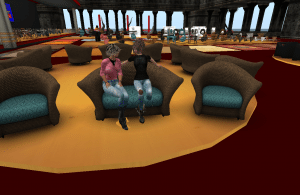 We've come a long way in the past 7 years and Second Life has been a big part of our journey. Our BEST Space was built in Second Life before we ever launched the real world version in University Place.  Some aspects of Project PEER and our support group facilitator training were developed and tested in Second Life and are now a vital part of our real world work.
Our Be Your BEST Wellness program in Second Life has been built on best practices and in partnership with leading health agencies, universities, and disabilities organizations that utilize SL as an outreach and support platform. Much of what we've learned we've applied to our wellness presentations and workshops at Our BEST Space and with real world partners across WA State.