Alice Fenske and her husband, Andy, are real-life superheroes to local animals that need them the most.
The Fenske's own and operate the Gentle Paws Hospice and Sanctuary in Grays Harbor County in Washington State. Gentle Paws provides love, support and care for special needs and senior dogs and cats.
Gentle Paws also support the furry family members of low-income senior citizens and homeless adults. The Fenske's provides love, boarding and care at no cost for the animals in the event of their humans having a medical emergency or if they need some time and support to get back on their feet; once they are ready, they reunite with their animals again.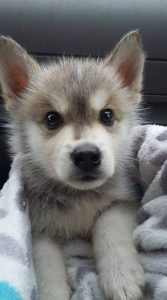 What fuels the Fenske's passion for animals, especially those with special needs, comes from their own histories and experiences. Both are brain injury survivors and have been members of the Grays Harbor County Brain Injury Support Group since moving to Washington State five years ago. For the Fenske's, it was the help and support they needed.
"We couldn't believe our luck that this tiny community would have a TBI support group for the first time since Andy's accident," says Alice Fenske. "We were finally getting answers, confirmations, and help. Thank you, God, for this group. Through the years I realized that with the accidents I have had, (I) broke my neck in 1996 and numerous concussions since moving out here, that I too, have had a TBI."
The Fenske's wanted to provide similar support, help, answers, and most especially, a voice, for special needs animals in need. Paired with big hearts and a great love for animals, the Fenske's journey forward after brain injury would also include caring for animals.
For Alice Fenske, her passion for animals began at a young age.
"I grew up not having the very best life and I have always had animals in it and they have always been there for me.  They love unconditionally and always forgive you," says Fenske. "My love for animals started when I was very young, and the special needs and seniors grabbed my attention."
Fenske continues, "When (my husband and I) lived in Wyoming, (where) the humane society from Longmont, Colorado had a 14-year-old very overweight female dog who had huge cancerous tumors hanging off her, was dropped off by her family.  They knew nobody was going to even take notice of (the dog) Mia, so I got a hold of a rescue whom I had done another hospice dog for."
The rescue group knew that the Fenske's were moving to Washington State, but asked if they could come look at Mia anyway.
"We went down (there) and one look and I knew she was coming home with us," says Fenske.
The Fenske's took care of Mia's health needs and showered her with love and attention. In turn, Mia taught them some valuable lessons in love and acceptance in the short remainder of her life.
"Miss Mia opened our eyes to how seniors and some special needs dogs were treated at the ends of their lives. We have been told, 'They just won't die;' 'They are no fun anymore;' and 'They just lay around.' We have heard so many excuses it breaks our hearts.
We don't have to go far to get animals; we have to say 'no' to animals every day, which breaks our hearts, but it is just the two of us and we are usually at 30 dogs."
Fenske explains the mission and vision for Gentle Paws. It's passionate and straightforward.
"They don't have a voice that can been heard, especially the older or special needs (animals).  The puppies always get seen and adopted and get the money they need for whatever.  The seniors hear this: they are old, they will probably die soon, and should we really put money into them.
We are here to say, yes. They have feelings too; they love to be loved, go on walks, be on the couches, sit in front of our fireplace, jump into bed with us at night.  They deserve the same things in life that people take for granted."
Fenske continues, "People take a lot of their animals for granted and not go the extra step for them, especially the seniors or special needs when they get older.  All that these animals want is a warm place to lay down and have a place to call home."
While at this point, the Fenske's don't have formal plans for the sanctuary, they hope to keep taking in animals in need of love and support.
One of these special animals at Gentle Paws was featured on the international website, The Dodo, a hugely popular site for animal lovers, activists, and advocates. The video shares how the community came together to support a beautiful special needs dog named Sunshine. Please click here to see the powerful and inspirational video about Sunshine, Gentle Paws and her human supporters and friends.
As for the sanctuary's immediate needs, monetary and food are always welcomed and appreciated. For those who wish to donate, please click here for phone contact information. Please call the sanctuary first to make donation arrangements.
In the meantime, Alice and Andy Fenske keep helping the animals.
"We just plan to keep putting one paw in front of the other," smiles Alice Fenske. "This journey has been amazing."